Forest City Disc Golf course offers a wide variety of terrain over the 21-basket course covering approximate 57 acres. Located just east of US Highway 69 in Pammel Park and adjoining East Woods Park (divided by the Winnebago River). The first ten poles have relatively flat terrain with a few trees but water is always around with several ponds and a river that all come into play. Cross the swinging bridge for Poles 11 thru 21 this portion of the course offers elevation changes and more trees including 5 fairways that go thru the woods.
Red Tees – 4,290'
White Tees- 6,120'
Blue Tees- 7,320'
Long 720' ( flat open)
Short 145' ( vertical uphill wooded)
How to get to FCDGC:
Coming from I-35 take exit 203 follow state highway 9 west approximaty 14 miles and the highway turns into a four lanes and you will see a Pamida sign at the top of the hill. Turn left (south) right before the Pamida sign, This is Golf Course Road and take it ½ mile to the 3-way stop. Turn right (west) on to J-street, cross over the bridge and turn left (south) to enter the park.
Coming from Highway 69 Turn east at the J-street traffic light. Then take the first right (south) to enter the park . Note if you crossed the bridge you have gone too far.
updated map (2011):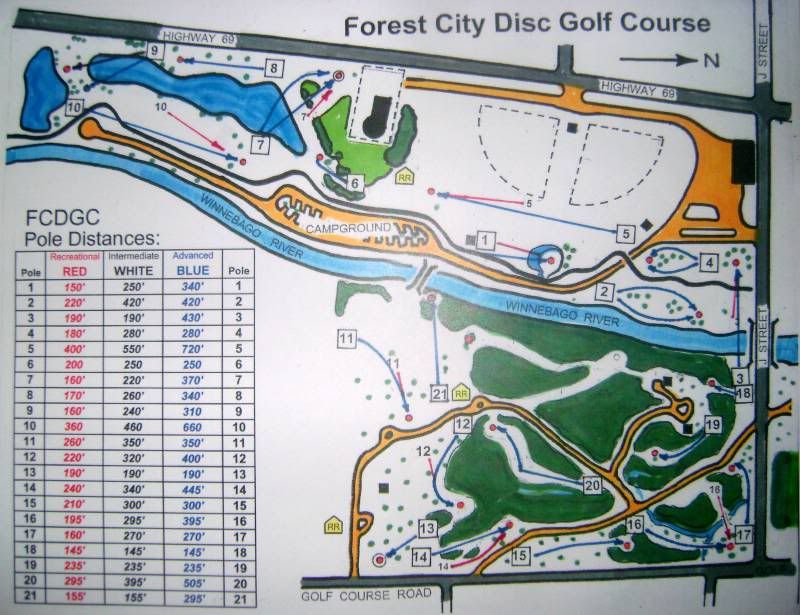 RECORDS
Low Round (21 poles Blue Tees):
-9
Greg Schawarz, Minneapolis MN 9-5-09 Tree Town Open
Low Tournament Score (42 poles Blue Tees):
-13
Chris Claring, Central Iowa 9-12-10
Low Round (21 poles White Tees):
-6
Brian Voss Forest City, IA 9-15-09 League Night
Low Tournament Score (42 poles White Tees): +2
Chris Gorman (Belmond, IA) 5-8-10 Battle at the Bridge (NIT)
First Ace
Jim Politis ( Mason City, IA ) #8 White tee 260' June 15, 2010 League Night[/b]